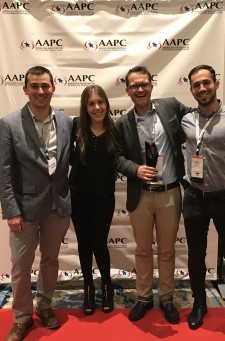 In a highly competitive election year, IVC Media and its President, Chad Peace, have been recognized for some of the most prestigious consulting and digital media awards in the country, including Peace being recognized as one of the "40 Under 40" to watch in the industry.
San Diego, CA, March 21, 2017 (Newswire.com) - The American Association of Political Consultants (AAPC), the largest association of political and public affairs professionals in the world, held its annual awards ceremony last week in Huntington Beach, California. Being a highly contested election year and, in turn, awards competition, San Diego's IVC Media LLC is proud to take home some of the most sought after "Pollies."
San Diego native Chad Peace, President of IVC Media, was named one of the "40 under 40" professionals to watch this year, being recognized for his accomplishments to expand nonpartisan voter rights and for his outstanding work in local, statewide, and presidential campaigns. He was one of just four independents to be given the award.
Another San Diegan, AAPC Vice President Tom Shepard, noted that, "the competition for this year's winners was fierce as we received the most nominations we have seen in AAPC '40 Under 40' history."
"The competition for this year's winners was fierce as we received the most nominations we have seen in AAPC '40 Under 40' history."
IVC Media was also recognized with the award for "Best Use of Social Media in Ballot Initiative Division" in the nation for executing the social media campaign that helped pass local election reform, Measures K&L.  
IVC Media also received a prestigious Reed Award for "Best Fundraising Email Creative for a Presidential Campaign, including the Primary Election," thanks to its work which helped Gov. Gary Johnson's presidential campaign "shatter" third-party fundraising records. Competing against high-profile campaigns like those of Bernie Sanders, Hillary Clinton, and Donald Trump, IVC Media is especially proud to bring home the title for most creative fundraising email of them all.
The IVC Media team helped Gary Johnson's campaign raise over $11 million online from over 200,000 donors.
                                                                                          ###
About IVC Media: IVC is a nonpartisan digital consulting firm that specializes in helping corporate, non-profit, political and public affairs clients craft and deliver unique and effective multimedia communication campaigns. The firm was founded in 2011 and has won Golden Pollie and Reed Awards for excellence for a number of digital media campaigns.
Contact: Debbie Benrey​
debbie@ivc.media
Source: IVC Media LLC